Full Funding for the United Nations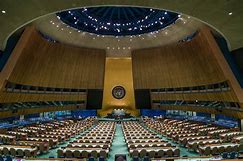 You may not always see its work up close, but the UN is on the front lines of solving some of the globe's biggest challenges and crises. Right now, the UN Refugee Agency and the World Food Programme are feeding and sheltering over half a million Rohingya refugees who have fled mass violence and targeted killings in their home country of Myanmar. In Iraq, the UN Development Programme has restored electricity to over 20 cities liberated from ISIS and rebuilt dozens of schools and hospitals across the country, allowing tens of thousands of Iraqis to safely return home. And in New York, U.S. Ambassador to the UN Nikki Haley has leveraged the power of the UN Security Council to bring together the international community to impose unprecedented sanctions on North Korea for its illicit nuclear weapons program.
In addition to making the world a safer and more prosperous place, the UN, in partnership with the U.S., has taken concrete steps to maintain the trust and goodwill of American taxpayers. The recently-adopted 2018-19 UN budget, for instance, was almost $300 million less than the 2016-17 budget. And not only has the UN significantly trimmed its last two operating budgets, but it's also eliminated hundreds of posts, decreased the organization's staff compensation package by $500 million, and reduced the cost per peacekeeper by almost 20 percent-all without compromising the organization's effectiveness and mission.
Advancing the Sustainable Development Goals
In 2015, the member countries of the United Nations unanimously adopted a to-do list for the world to achieve by 2030. The Sustainable Development Goals (SDGs), include 17 specific priorities and 231 targets designed to advance human dignity while protecting the planet. Achieving the goals by their 2030 due date will require action from companies, nonprofit organizations, individual citizens, and governments.
Support for the UNHCR
Refugees fleeing war or persecution can be very vulnerable. They have no protection from their own state and it is often their own government that is persecuting them. If other countries do not let them in or protect them, they may be condemned to an intolerable situation where their basic rights, security and even their lives are in danger.
UNHCR, seeks to uphold the basic human rights of uprooted or stateless people in their countries of asylum or habitual residence, ensuring that refugees will not be returned involuntarily to a country where they could face persecution. Longer term, UNHCR helps refugees find solutions, by repatriating voluntarily to their homeland, integrating in countries of asylum or resettling in third countries.
UNHCR is funded almost entirely by voluntary contributions, with 87 per cent from governments and the European Union. Three per cent comes from other inter-governmental organizations and pooled funding mechanisms, while a further nine per cent is from the private sector, including foundations, corporations and the public. Additionally, UNHCR receives a limited subsidy (one per cent) from the UN budget for administrative costs, and accept in-kind contributions, including items such as tents, medicines and trucks.